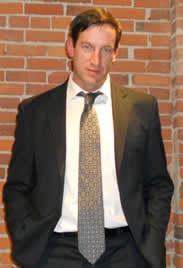 Richard Neary
Richard was raised in Kingston, Ontario where he obtained a Bachelor's degree in psychology in 1998 after completing his studies through evening and correspondence courses while working full time in the construction industry. After obtaining his degree from Queen's Richard took a year off from his studies and traveled through Western Canada and the United States working in construction, at various ski hills, and in the oil patch.
In 1999 Richard commenced Law School at the University of Victoria where, in addition to his studies, he was employed working on legal research projects for both faculty and local lawyers. After graduation from Law School Richard took his Bar exams in Ontario where he was awarded a share of the Parsons Prize in criminal law after tying for the highest mark on the criminal law exam (written by approximately 1,250 students). Upon completing the Bar Admission Course, Richard worked with a number of prominent Toronto criminal lawyers, including Paul Copeland and the now Justices Louise Botham and Brian Scully.
Drawn back to the West Coast, Richard returned to Victoria in late 2004, where he joined leading Victoria criminal and personal injury firm, Green & Helme. Richard worked at Green & Helme from 2004 until early 2011, where he gained a wealth of experience and accumulated an impressive record of successes defending all manner of criminal cases, from driving offenses, assaults and drug cases, to high profile murder charges, as well as obtaining excellent results for Plaintiffs suing ICBC, private insurance companies, the police and other government agencies.
Having successfully argued cases at all levels of court in British Columbia, and firmly established his reputation on Vancouver Island as a formidable trial lawyer, in March 2011 Richard opened his own practice. His office sits in a classic heritage building in Bastion Square in the heart of beautiful downtown Victoria. He shares space there with associate counsel Jared S. C. Faber, as well as Bradley L. Hickford, one of the most senior and respected members of the Defence Bar.
Richard's success is attributable to the manner in which he approaches his work. He is a passionate advocate in the corner of the people he represents who thrives on the challenge of battling in Court, and gets immense satisfaction from leveling the playing field for clients who are forced to go head to head with the powers of government and/or big business.
Jared S. C. Faber
Jared was born and raised in Victoria, B.C. He obtained his Bachelor's degree (honours) in Philosophy and Applied Ethics in 2008, also working as a restaurant server and bartender throughout his undergraduate years. Jared then moved to Seoul, South Korea where he lived and worked as an English teacher for elementary-age children as well as adult students.
In 2010 Jared returned to Victoria and worked for several years as a freelance tutor, and as an SAT preparation instructor for Canadian students wishing to attend American universities. He began law school at the University of Manitoba in Winnipeg, before returning to, and obtaining his Juris Doctor from the University of Victoria in 2016. During his studies, Jared continued his tutoring enterprise, and represented the University of Victoria in the Western Canada McIntyre Cup criminal trial moot competition. Jared completed his articles with Richard Neary Law Corporation and was called to the bar in 2017.
Jared practices primarily in the areas of criminal defence, family law, and personal injury. He has represented clients in various criminal matters at all stages of the criminal process, and has worked on a number of Charter applications and arguments at the Supreme Court and Court of Appeal levels. He is a strong believer in protecting individual rights and freedoms, and strives to obtain the best possible results for all of his clients.
Jared's family law practice includes assisting clients with separation agreements, cohabitation agreements, guardianship and parenting matters, division of assets, as well as child and spousal support issues. On a foundation of hard work and client relations, Jared strives to produce cost-efficient resolutions and to avoid unnecessary expense and litigation whenever possible, but is well-prepared to take disputes to court and fight hard to protect his clients' interests.
Contact Us
Richard Neary Law Corp
200 – 31 BASTION SQUARE
Victoria, British Columbia
V8W1J1
Phone: (250)-381-9700
Fax: (250) 381-9702
Toll FREE: 1-855-381-9700
Email: rneary@richardnearylaw.com